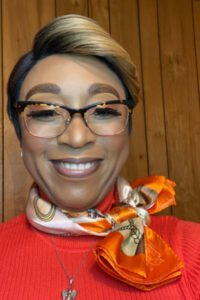 Sharon Adams-Herron is presently the Center Director at West Tallahatchie Head Start Center located in Glendora, Mississippi, for Institute of Community Services, Inc. She has over twenty years of experience in training and development, policy administration, program management, and instructional design.
Sharon initially joined the ICS Head Start family in 1997 as a Parent Education Trainer in the PET Program. In 2001, she was hired as a Family Service Worker/ LPN at Batesville Head Start Center. She served seven years in this capacity in the agency before accepting the position of Center Administrative Assistant/ Acting Center Director for Grenada Head Start and Grenada Early Head Start programs. Over the next eight years, Sharon assisted with the operations for both programs where she instituted the inaugural mental health initiative, promoting holistic health trainings and programs for a staff of at least eighty-five. In 2016, she was promoted to the position of Center Director at West Tallahatchie Head Start Center and became part of the Tallahatchie Early Learning Alliance family.
Sharon was conceived and raised in the fertile flatlands of the Mississippi Delta where her formal education began as a head start student. In fact, both of her children attended ICS Head Start. She matriculated at Alcorn State University earning a Bachelor of Arts Degree in English Communications in 1989. She attended Holmes Community College in Grenada, Mississippi, acquiring her Licensed Practical Nursing credentials in 2000. After several years of assisting with the advancement of early childhood education in ICS Head Start, she pursued her Master of Arts Degree in Curriculum and Instruction from the University of Mississippi, which she obtained in 2006.
Sharon specializes in conducting learning and training needs analysis to create and facilitate weekly training sessions for eighteen staff as well as bi-monthly trainings for parents. As a Certified Pre-K CLASS Observer, she implements the current curriculum in compliance with state educational objectives and company standards to ensure educational readiness for students entering kindergarten. She conducts all center human resources related functions, including staff recruitment, application assistance, drug screening appointments, interview process involvement, new employee orientation training, personnel filing and documentation. She participates in student recruitment as an ongoing operation.
Sharon manages, trains, and mentors every staff individually and collectively as needed. She enhances policy compliance through the enforcement of established protocols related to safety, training and federal regulations. She has developed community partnerships with educational systems, local businesses and community organizations. She has a history of developing strategic initiatives and innovations that elevate staff productivity and organizational performance. Her mantra exemplifies that safety and scholastic achievement must be seen as paramount. She is known as an enthusiastic leader and motivator who galvanizes vision and inspires peak performance in the staff. She is a cheerleader, coach, and an active participant in all things center related. She talks the talk while she walks the walk literally rolling up her sleeves and assisting with everything from taking carts to the kitchen, to empting garbage cans and mopping floors.
She adamantly believes that early childhood education, the Institute of Community Services, Inc., and Tallahatchie Early Learning Alliance assists in engaging and empowering everyone in Tallahatchie County in the collaboration of sustainable, impactful, and intentional learning that positively affects directly the students, parents, teachers, and staff in the educational systems while indirectly affecting the communities in a positive, productive manner that is immeasurable. She unwaveringly acknowledges that this is congruent to the success of the present state of our students, families, and communities as well as the sustainability of our future as a successful county.
Sharon currently lives in Charleston, Mississippi, and is the mother of a young lady and young gentleman. She is a member of the Tallahatchie Early Learning Alliance Council, Tallahatchie County Excel By 5 Community Partners, Mississippi Head Start Association, Charleston Mayoral Council, Sisterhood Book Club and Sumner Rotary Club, where she was unanimously elected the first African American female president in 2019-2020.
She will be transferred to another county as center director for the upcoming school year, but as a resident of Tallahatchie County, she will continue to assist TELA with selfless servitude in empowering the county to be proactive in the health and well-being of the positive productivity of the people she calls family to have the opportunity to survive and thrive.