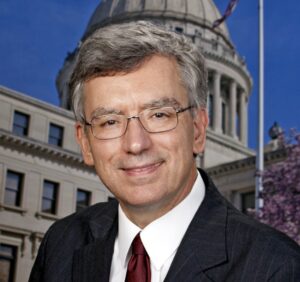 State Representative Tommy Reynolds has been a long-time friend of early childhood education.
He was serving in his first term during the 1982 Education Reform Bill debates that resulted in mandated kindergartens, state-wide. Over the years, he has been instrumental in making sure that Mississippi's youngest have a strong voice at the Capitol. During the current legislative session, he sponsored a measure that would expand Pre-K collaborative programs statewide within the next five years.
A graduate of Charleston High School, Rep. Reynolds attended Ole Miss and received his undergraduate and law degrees by age 22. In 1979, he sought election as House
Representative for District 33 and was handily elected. Since 1980, he has served the citizens of Tallahatchie, Grenada, and Yalobusha Counties well. His legal expertise has been recognized in his service on the House judiciary committees as well as his past chairmanship of the House Election and Apportionment Committee where he guided that body through redistricting and election statutes. Rep. Reynolds is fortunate to be highly regarded both for his intellect and his understanding of the purposes of legislation–to help people.
He has made a priority of the passage of legislation supplying new fire trucks to communities and cities through a grant program that has grown each year. He recognizes that every single citizen deserves the best effort to protect them and their families from the devastating losses incurred by fire.
As the husband of an educator and the son of one, Rep. Reynolds has always supported efforts to provide Mississippi's public schools, colleges, and universities much
-needed support. He was part of the team that put together the Mississippi Adequate Education Program, and this year that program is being shored up by proposals coming from both chambers–gradually moving toward full funding.
Although Rep. Reynolds is not seeking re-election to his 12th term, he will not be out of the public service business. He is currently serving as Board Attorney to a number of public bodies and his law practice is devoted to helping individuals traverse the social security and disability programs of government.
Rep. Reynolds and his wife, the former Liz Fedric, are the parents of three children. They are enjoying watching their three grandchildren grow and thrive in north Mississippi.